Ask TriMet: Do I Have To Tap Every Time I Board?
Short answer: Yes.
Tapping the Hop reader every time you board transit not only validates your fare, it also acts as your proof of payment — so when you tap again within that first 2 ½-hour window, or when you have already earned a day or month pass, you won't be charged again until your current pass is up.
Plus, tapping gives us high-level, aggregate info about where people ride transit the most, which helps us decide where to add new service.
Fortunately, tapping is a breeze. Here are some tips on how to tap right the first time, every time.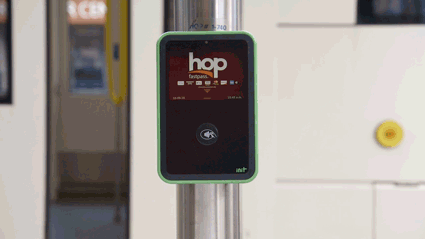 Tapping the reader with a card.
You don't need to swipe — just hold your phone, card or paper Hop ticket over the contactless payment icon in the black area below the screen. You'll hear a positive "ding!" once it's read your card.
Hold the top of your phone, which is where the transmitter is, to the payment icon on the reader just below the screen. Don't worry if it takes a second or two — some phones tap faster than others. Keep an eye out for payment authorization on your phone (like fingerprint or PIN) if you have it set up, and for a faster tap, try having your phone open to the card you want to use on your mobile wallet.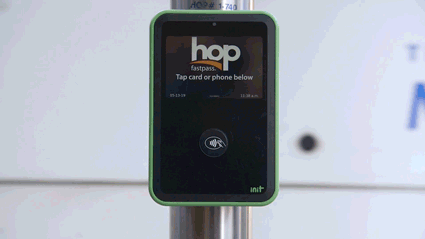 Tapping the reader with a virtual card.
Whether it's your first ride of the day, your last or just a transfer, tap every time you board a bus or train. Even once you've earned a day or month pass, that tap still acts as your proof of purchase. You won't be charged again if you have a ticket or pass that hasn't expired yet.
Hop readers on buses and streetcars are just inside the doors. For MAX, WES and the Vine, the readers are on the platform (usually at either end).
Though you'll hear a beep once your pass registers, the Hop reader screen will show you some other useful info:
The time your fare is valid until

Any passes you've earned

If the funds loaded to the card are running low
FYI, you sometimes might see a "Welcome Aboard" message instead (often if you're using a pass from work or school). No worries, though — if that message comes up, you're still good to go.
Did you know you can tap more than just a plastic Hop card? Hop readers will read contactless credit cards, a virtual Hop card on your phone or your phone's mobile wallet.
Whether you're using Hop card or credit card, virtual or physical, you'll automatically earn day passes once you've paid twice that day — you'll never pay more than you need to. And with a Hop card (physical or virtual), you can earn a month pass, too.
You can also buy a paper Hop ticket from the ticket vending machines at MAX and WES stations. Just tap the paper Hop ticket on the Hop reader as well (make sure you keep the ticket — it's your proof of payment). But take note: You have to choose when you buy the ticket whether you want a 2 ½-hour pass or a day pass, as these paper Hop tickets can't be reloaded.
If you've got more questions, we have more answers. Just head over to myhopcard.com, where you'll find pages about tapping with phone or card, info on getting your own Hop card and an FAQ chock-full of helpful tips.