Heads up: We've got some work to do.
From Sunday, August 4 through Saturday, August 17, MAX won't run between Interstate/Rose Quarter and Lloyd Center/NE 11th Ave stations while we make some necessary improvements to our tracks. MAX Blue, Green and Red lines will be disrupted and all MAX lines will have trains departing less often.
If you ride MAX, plan ahead: leave an extra 30-45 minutes for your commute, avoid rush hour commuting (if you can) and consider other travel options, like our ever-expanding bus service. We've shared all you need to know about getting through the closure, including where to catch shuttle buses, on our Lloyd MAX Improvements page.
What we'll be doing
Most of the work will be done on NE Holladay St. between N Interstate Ave. and NE Wheeler Ave. We'll start with rail welding and electrical testing, then we'll be cutting away concrete segments until the crews can access the track segments. It'll be pretty loud for just the first day or two.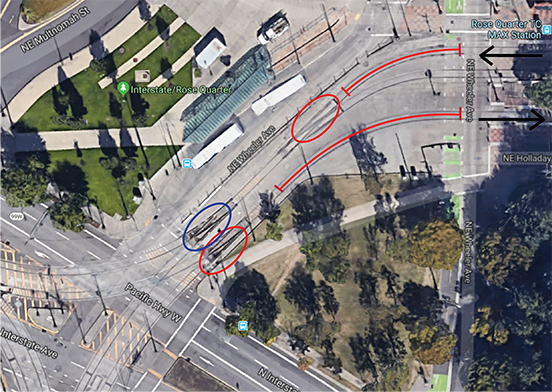 Straightening out some issues
See those red curves? They're tight, which causes the train wheels and the track to grind together — you might have heard trains screeching as they travel this stretch of track. After time, this grinding results in a bumpy ride. We're going to replace these rails so your ride will be smoother (and cut down the wear on our tracks and trains, too).
Boosting reliability
The blue circle marks where we're going to replace a switch machine (the electrical and hydraulic system that moves the track). The red circles are where we're replacing the whole switch, which is the switch machine plus the actual section of track that moves back and forth to get trains from one track to the other. 
These switches are mostly used when we need extra trains for special events and to get trains from Ruby Junction (where they sleep at night) to the Yellow and Orange lines. So although they don't get used too many times a day, they need to work right every time. 
Smoothing things over
Head east on Holladay St., and between 9th and 11th Ave and you'll find a funky little switch that hardly ever gets used. It's a manually-operated, trailing switch (trains have to pass it, and then back up), and it makes for a rough ride along this section. We're going to remove it and put some brand new straight track in there instead, which will make this area smoother for you.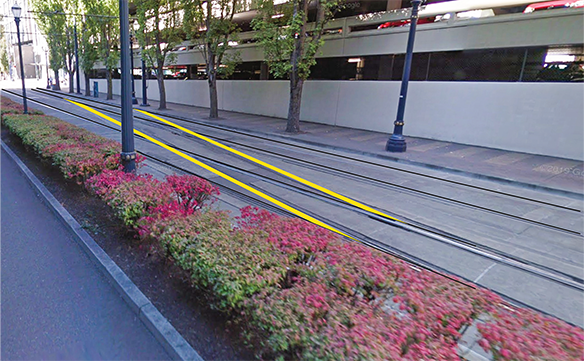 Getting wired 
Another problem that we're fixing in this area has to do with a metal loop under the ground called a Train to Wayside Communication (TWC) loop. The one on the east end of the Rose Quarter MAX station in particular sometimes thinks there's a train on a section of track when there isn't. It's an important safety feature, but it causes delays when it malfunctions. So, we're upgrading our TWC so it's both safe and reliable.
Finally, we're also:
Fixing potholes

Deep cleaning stations

Installing future heating capability for easy snow and ice removal
The majority of work hours will be between 7 a.m. and 7 p.m., although there is a possibility of round the clock work. There will be lane closures on 13th Ave and Interstate Ave that might impact drivers and bicyclists, too. 
We know service disruptions can be frustrating, so we thank you for your patience while we make your MAX ride more comfortable and reliable!