What's With the New Ticket Machines?
As you may have noticed, some MAX stations are sporting shiny new ticket machines.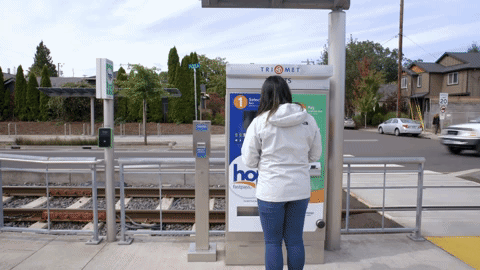 And if you've taken a closer look, you probably saw that they don't just look different — they have been reformatted from the inside out to sell tappable Hop Fastpass tickets instead of conventional paper fares.
Introducing Hop tickets
The new machines give two options for purchasing fare: 2½-hour and 1-day Hop tickets.
What makes these Hop tickets different than the old style? For one thing, they're meant to be tapped at the Hop reader on the bus or at the train station. Electronics contained within the ticket allow the Hop reader to validate your fare whenever you board or transfer. Just like with plastic Hop cards, Hop tickets must be tapped every time you board or transfer.
What about multi-day passes?
The 7-, 14- and 30-day passes available from the old-style ticket machines will not be replaced in the new machines. There are a couple reasons for this: First, they have never been a very popular option — the overwhelming majority of fares purchased at ticket machines are 2½-hour or 1-day passes.
Second, since you can load a Hop card (or a virtual Hop card) with multiple days' worth of fare, multi-day passes are no longer necessary. If you end up riding less than you expected to over that period of time, any value left on your card is stored until your next trip (unlike with paper passes). Plus, you'll automatically earn passes as you go, so you'll never pay more than $5 in a day or $100 in a month.
Another option: Skip the machine
We're keeping ticket machines around because they're convenient, especially for visitors. But if you're an occasional rider with a smartphone, the easiest way to ride is with Apple Pay, Google Pay or Samsung Pay.
Just tap your phone on the Hop reader to instantly purchase an 2½-hour Adult fare for $2.50. If you tap again after 2½ hours, you'll be charged another $2.50 and your fare will become valid for the rest of the day (until 3 a.m., actually).
What's next?
We're about halfway through converting our old ticket machines, and we expect to finish by this summer. If you use the machines regularly and you haven't switched to Hop yet, start by picking up a card or learning how to pay with your phone. If you have any questions or comments, we'd love to hear from you — just visit our Support Center to leave us a note.