Avoid Interstate Construction Traffic This Summer
Hearing the phrase
"a good time to plan a vacation"
about upcoming roadwork does not exactly inspire confidence in a smooth commute. But that is what's being said about this summer's I-84 and I-5 construction.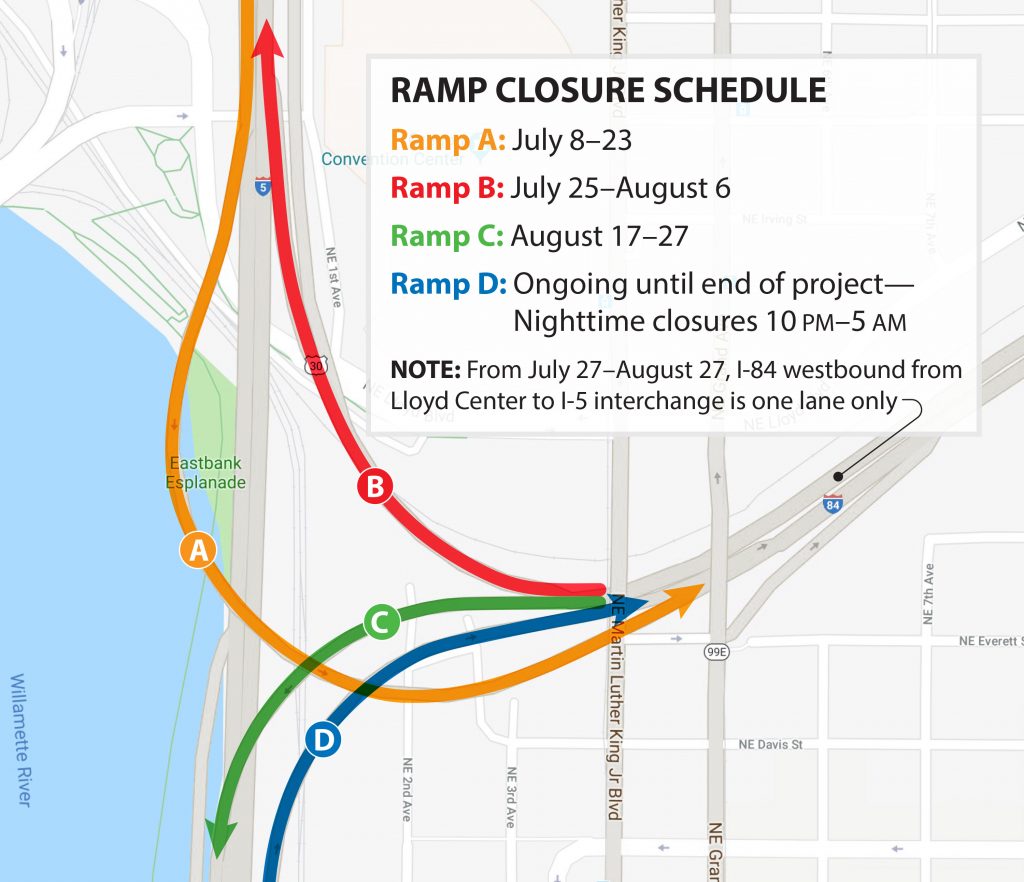 The projects, which run from July 8th through August 27th (with a brief early August break), will close three of the ramps that connect I-5 to I-84. Major traffic delays are expected for the length of the projects.
For many, MAX is going to be the best option for your commute. It may be crowded, but you won't get bogged down in traffic. MAX Yellow Line is an alternative for I-5 in North Portland and the Blue, Green and Red lines can help you avoid I-84 (and parts of I-205).
Want to find the fastest way to work on TriMet? Plan your trip.
If don't live near a MAX station, we have dozens of Park & Ride locations that provide free and easy parking near MAX stations.
Yellow Line riders have access to over 600 free parking spaces between the Expo Center and Delta Park/Vanport Park & Rides. Additionally, the Expo Center is allowing use of any other open spaces in its lot between July 8-20, July 25-August 6 and August 17-27, but a fee will apply for those.  
Red Line riders looking to avoid I-205 and I-84 have access to nearly 200 spaces at the Parkrose/Sumner Transit Center Park & Ride.
Blue Line riders have access to over 2,000 spaces at five Park & Rides between Cleveland Ave and Gateway Transit Center.
Similarly, Green Line riders have access to over 2,300 spaces at five Park & Rides between Clackamas Town Center and Gateway
Red, Blue and Green Line riders can also use the Gateway Transit Center Park & Ride's nearly 700 spaces.
Many Park & Rides fill by 7-7:30 a.m. on a normal weekday, so we recommend arriving early.
See our full list of Park & Ride locations.
Buses will also provide a way through traffic during the roadwork. While they still may experience some delays, we've taken action to help keep them moving.
We're anticipating significant delays approaching the Burnside Bridge during the ramp closure beginning July 25, so we've worked with the City of Portland to turn NE Davis between SE Sandy and SE Martin Luther King Jr Blvd into bus and local access only on July 26-27, July 30-31, August 1-3, and August 20-24 from 6-11 a.m.. This should help keep Line 12, 19 and 20 buses moving.
Also during the ramp closures that start on July 25th, we've worked to restrict parking for additional hours on SE Morrison between SE 12th and SE 6th Ave and SE Madison between SE 10th and SE 6th. This will allow our buses to use the BUS ONLY lanes for longer as they approach the Morrison and Hawthorne bridges.
We will also have additional buses waiting at transit centers that can be pulled into service in case buses start to fill and go into "Drop Off Only" during the ramp closures.
Throughout the summer, C-TRAN's express service between Vancouver and Downtown Portland is a viable alternative to MAX Yellow Line. C-TRAN is anticipating delays due to the expect congestion. Visit c-tran.com for more.
No matter how you plan on commuting this summer, transit will likely be a better option than driving for many who will be impacted by the I-5 / I-84 construction work. Here are helpful links for your commute:
Want to find the fastest way to work on TriMet? Plan your trip.
Worried about potential delays? Check out service alerts for your line.
New to TriMet? Here's all you need to know to pay your fare and ride.