How do we summarize a year like this?
Normally, we'd share some facts and figures describing what we accomplished and the challenges we faced. But 2017 wasn't so straightforward.
Looking back, we're happy to say that we made some huge strides that included introducing a new fare system and upgrading some of the oldest parts of the MAX system. But we were also tested in ways we never expected, and in the end it was the strength of our community that got us through. Now we're entering 2018 with a strong sense of who we are and where we're going.
A snowy start
We began the year in the middle of an epic winter. Temperatures didn't rise above freezing for a week after a huge January storm and the resulting blanket of snow and ice made getting around extremely difficult.
Keeping our buses and trains moving throughout the winter's record snowfall required extraordinary effort — and extraordinary patience from our riders (thank you!). When the going got tough, your positive attitude and understanding helped push us through.
Going into this winter, we're keeping in mind something we noted back in January: Be prepared for the next big storm, because it could come as soon as tomorrow.
Making MAX better
Spring arrived not a moment too soon. We had been looking forward the year's big MAX project, which involved improving the tracks along Morrison and Yamhill streets in Downtown Portland.
As eager as we were to start the work, we were also anxious about asking commuters to adjust their schedule for three full weeks. We knew that having a smoother and more reliable ride would make it worth it in the end, but that would require lots of trust and cooperation. Looking back, our riders deserve all the credit in the world for stepping up and working with us — the days flew by and the project was completed on schedule.
We did some work on some of our other MAX stations this year, too. At Gresham City Hall, we renovated the shelters, installed arrival monitors and made safety and security upgrades. Over on the other side of town, we gave the Washington Park station a stunning (and much-needed) makeover, just in time for the annual ZooLights crowd.
Heartbreak at Hollywood
Just a week after the MAX improvements were completed, everything changed. On the afternoon of May 26, two young riders were harassed on board a train near Hollywood Transit Center. Three men intervened and were attacked — two of them, Ricky Best and Taliesin Namkai-Meche, were killed.
Our whole community was left reeling, and in many ways we still haven't recovered.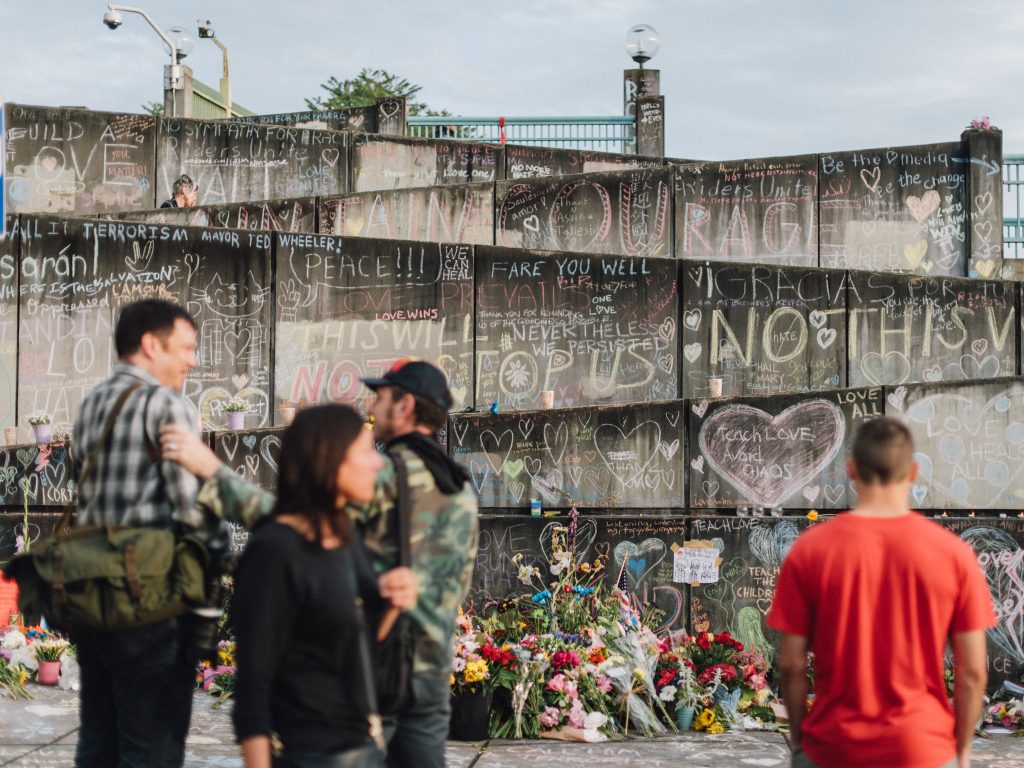 Just as that memory will always be with us, we'll also remember what happened in its wake. In the moments, days and weeks after the attacks, when the hurt was rawest, people came together and created something beautiful. Candlelight vigils were held, moments of silence were observed and helping hands were extended. The concrete walls of the Hollywood station were transformed by bouquets of flowers and thousands of messages left in chalk — the site of horrible tragedy became an overwhelming and unforgettable expression of love, unity and hope.
Though it was temporary by nature, that spontaneous memorial will live on. We're planning a mural that will cover the ramp walls at the transit center, inspired by the chalk messages that have since washed away.
Adding some color
Our plans for public art didn't end there. This year, we commissioned two expansive murals by Portland-based artists at MAX stations along the Banfield.
Daniel Duford's mural, titled "The Green Man and the Cinder Cones," tells the supernatural origin story of the landscape surrounding the NE 60th Ave station.
One stop east, at NE 82nd Ave, Alex Chiu's "How They Grow" is a colorful celebration of family and community. Chiu's three-year-old daughter, Mazzy, is featured in panels throughout the mural.
A new way to pay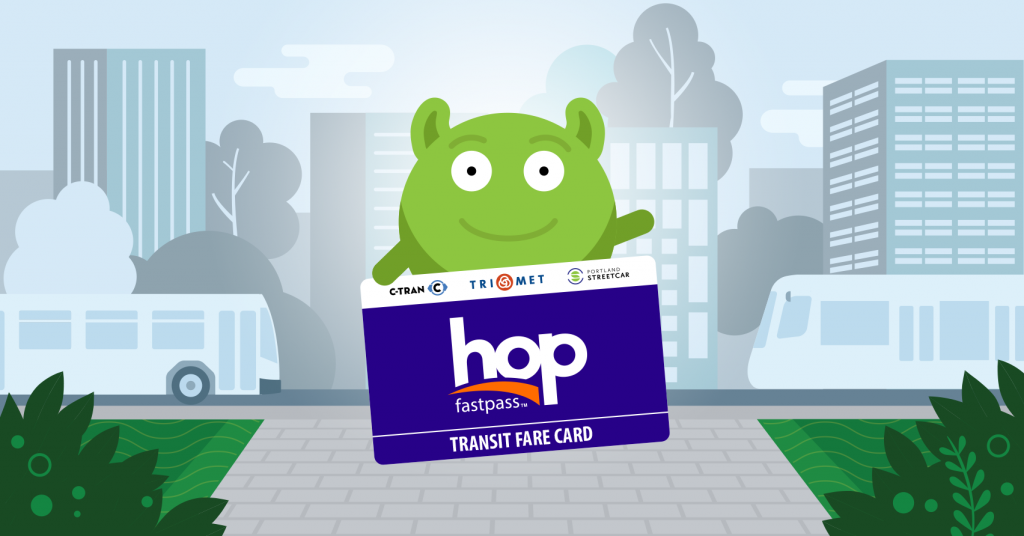 When Hop Fastpass was released in July, we felt a wave of relief — but in many ways the adventure was just beginning. We had been dreaming up and developing our new electronic fare system for years alongside our partners at C-TRAN and Portland Streetcar, and we knew what we came up with was both rider-friendly and thoroughly modern.
But convincing tens of thousands of people to ditch their routine, whether they like to pay with paper tickets or use the TriMet Tickets app, is no simple task.
Luckily, Hop has benefits that sell themselves, like automatic reloading and caps on daily and monthly fares. New features have been added regularly, too, like the ability to pay with a mobile wallet or soon, the ability to use a virtual card in Android Pay (we're the first transit provider in the world to do this). We also worked to make cards easily available from popular retailers like Fred Meyer and New Seasons along with ultra-convenient stores like Plaid Pantry. And it's working: We're seeing more and more taps every day, and the feedback we've received has been positive.
Keep Oregon Moving
This summer, the Oregon Legislature passed House Bill 2017, also known as Keep Oregon Moving. This landmark package established statewide funding for transit — for the first time ever. It's hard to overstate how significant this is for us, especially as we look for ways to serve our ever-growing region. We can't thank Oregon lawmakers and Governor Kate Brown enough for their leadership, which will make transit even more accessible and put more service on the streets.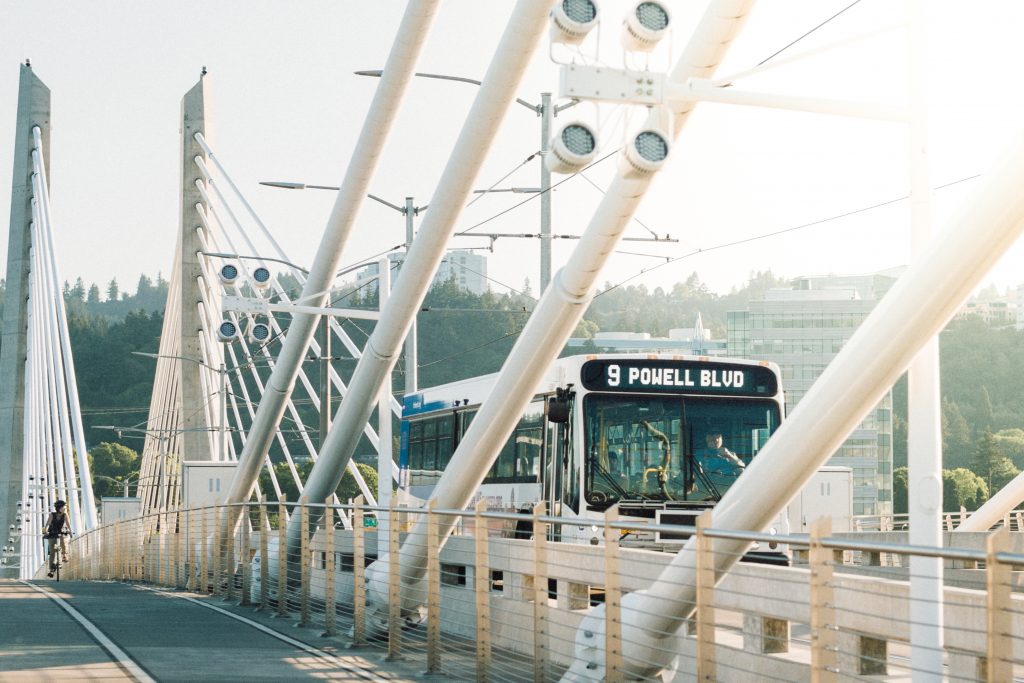 We expect to receive about $35–40 million annually through the bill's employee payroll tax. A sum that large naturally raises the question: What are we going to do with it? Fortunately for us, we had a plan ready.
Starting next summer, we'll launch a new low-income fare program that will make adults at or below 200 percent of the federal poverty level eligible for half-price fare. This is something we've wanted to offer for a long time, and the new funding will make it possible.
The money will also go toward adding bus service. Over the last few years, we've worked with riders, businesses, cities and counties to identify the transit needs, wants and wishes for communities throughout the region. Now we'll be able to provide more and better service quicker than we expected, with a focus on establishing more equitable service first.
After such a wild year, it's good to know there's so much to look forward to. Thanks for everything you shared with us in 2017 — whether it was your time, your support or your feedback — we truly appreciated it. We'll see you on board in 2018.