Electric Buses Update: Lots of Progress and Some Challenges
2021 is looking increasingly like it will be a good year for our community – vaccines! — as well as our electric buses. 
We're rolling out more buses, including buses with longer ranges and what we believe is a first-of-its-kind in the world electric bus.
And our original electric bus fleet is back in service after getting some important software and equipment upgrades.
We have lots of exciting news to share on our progress toward an all-alternative fuel bus fleet. Read on for a full update as we shift our electrification program into second gear.
GILLIG Long-Range
: Kicking the tires on other technologies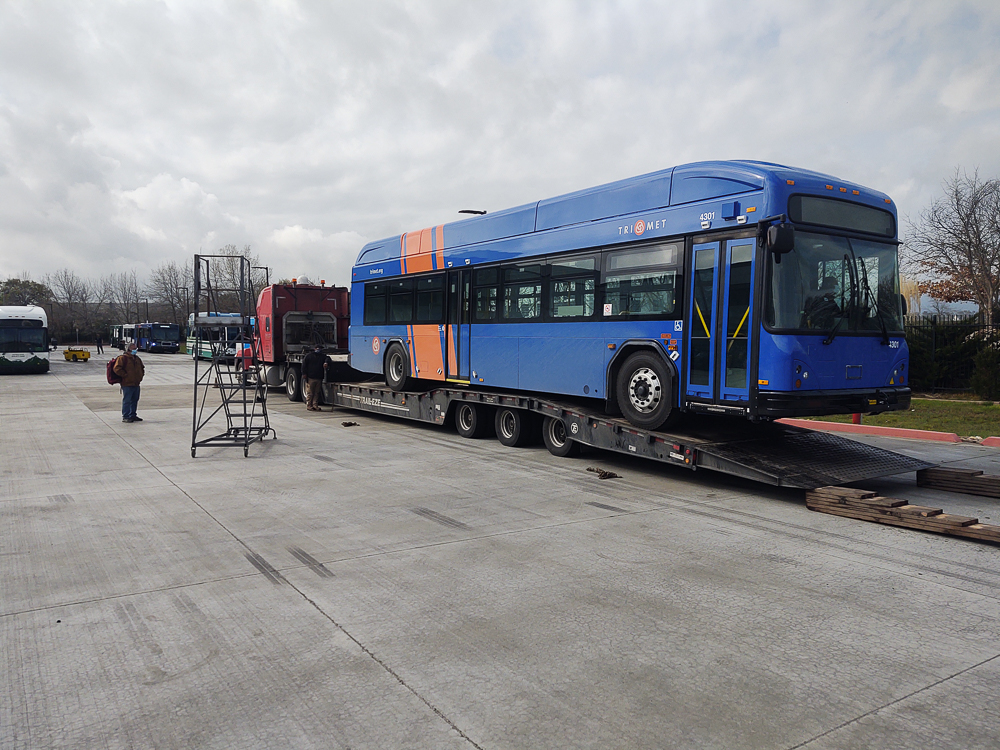 Now arriving…long-range electric buses! They're a different kind of electric bus, and we received our first of five this month. They're produced by GILLIG – the same manufacturer that made the majority of our diesel bus fleet.
The GILLIG buses will initially charge overnight at our Merlo garage in Beaverton, and they'll be able to travel more than 150 miles before needing to recharge. We're trying these buses out on Line 20-Burnside/Stark, a 26.5 mile route stretching from Beaverton to Gresham. It's one of the longest bus lines in our system, with a long, steep West Hills climb and a 20-hour service day.
After we've tested the first bus for at least 60 days, we'll start getting the remaining four. Then, after additional testing and training, riders like you will be able to hop on board.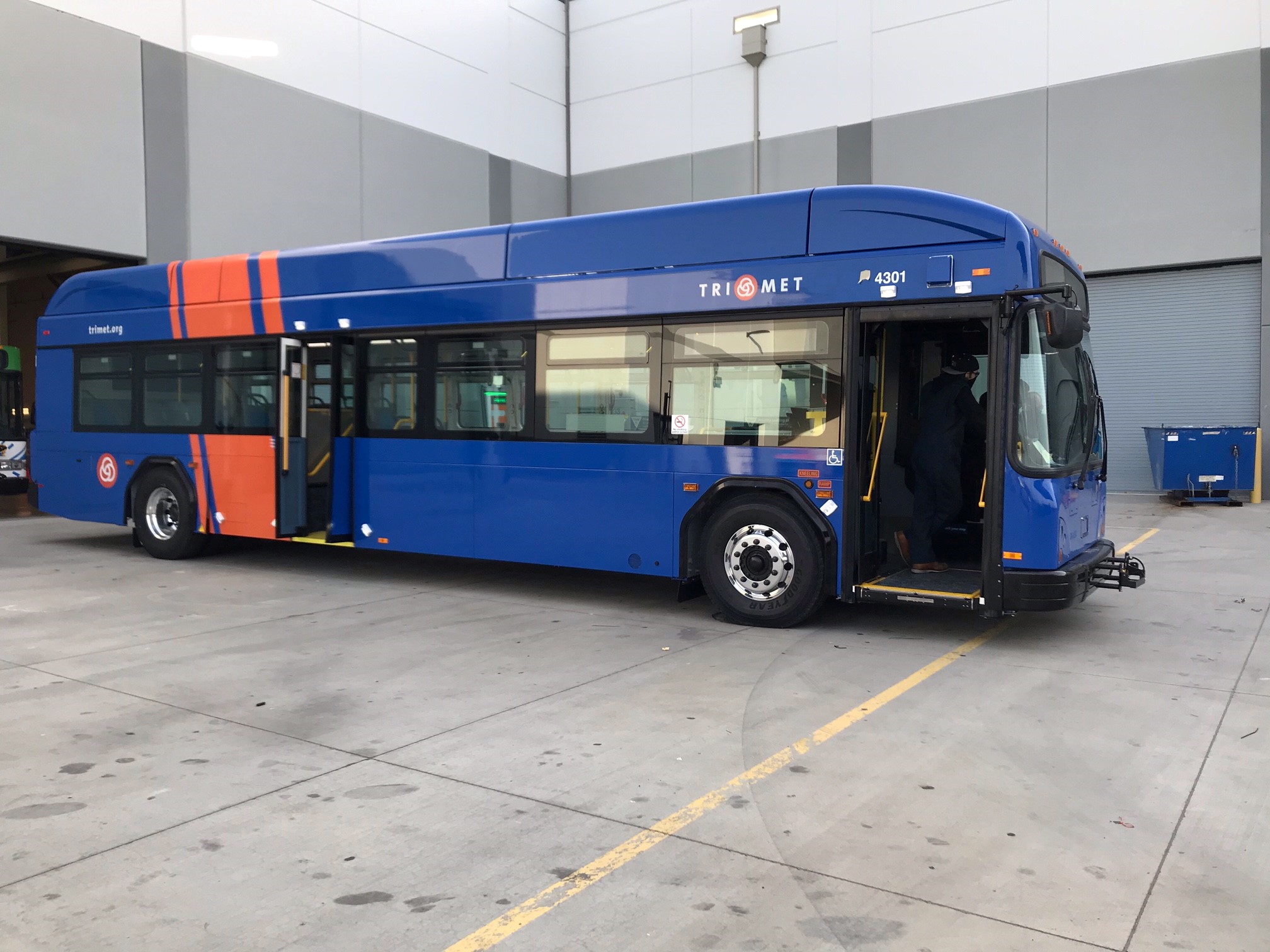 The 5 GILLIG electric buses cost just over $6 million. A grant from the Federal Transit Administration's Low or No Emission Program covered part of the cost, just as it did with our original fleet of New Flyer electric buses.
New Flyer Long-Range Bus:
Another intriguing option 
Imagine this. A fully electric articulated  "bendy" bus putting in the paces along Line 72-Killingsworth/82nd Ave.
It might happen sooner than you think. 
We've borrowed a couple of long-range buses from New Flyer – the manufacturer of our first five electric buses – for testing. One is a 60-foot long articulated bus, the other is 40-feet, like most of the buses in our diesel fleet.
These buses will also rely on plug-in chargers and can reach a full charge in about three to four hours. That should give the 40-foot bus enough power to travel more than 180 miles and the 60-foot bus to cover more than 120 miles. 
These two buses are for demonstration and testing only. In other words, they won't be picking up riders. The buses will be filled with giant barrels of water to simulate the weight of riders, so that we can see how they'll perform in real-world conditions with people on board. 
They also won't look like TriMet buses. They'll have a solid blue color with no TriMet logo, but rest assured that our team is behind the wheel.
The Desert Rose
: First of its kind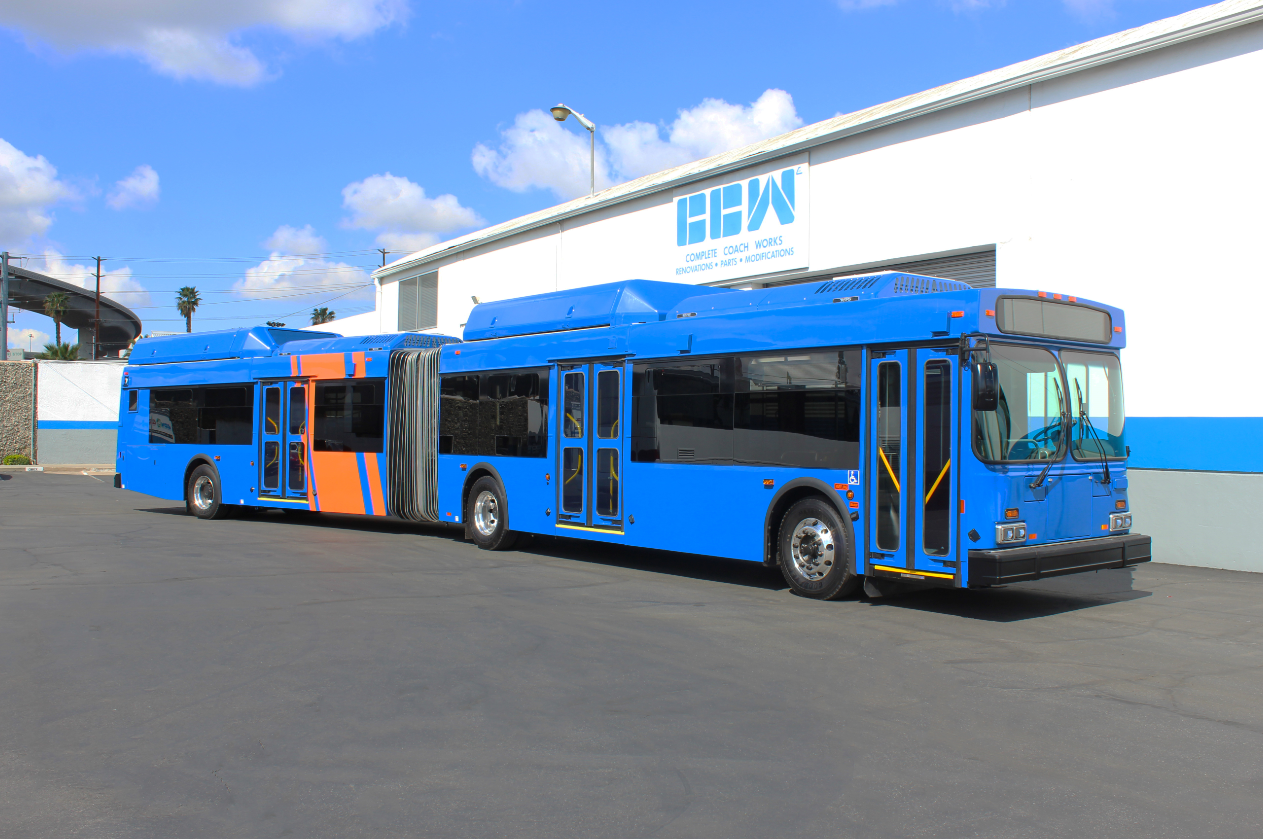 Working with bus manufacturers like New Flyer and GILLIG, we're confident we can help advance electric bus technology so that we can reach our goal of a 100% green bus fleet by 2040.
But we also have an ambitious idea that could get us there faster: convert existing diesel buses to run on electricity. 
New electric buses are expensive – they cost about a million dollars apiece, which limits how fast we are able to transition our 700+-bus fleet. 
But if you convert a used diesel bus to run on electricity, you would just pay for interior upgrades and electrification, which costs hundreds of thousands of dollars less than buying a new bus. 
If we can take buses that have reached their midlife point and then overhaul them to run as well as (and look like) a brand new electric bus, we could potentially convert our fleet faster and for much less money.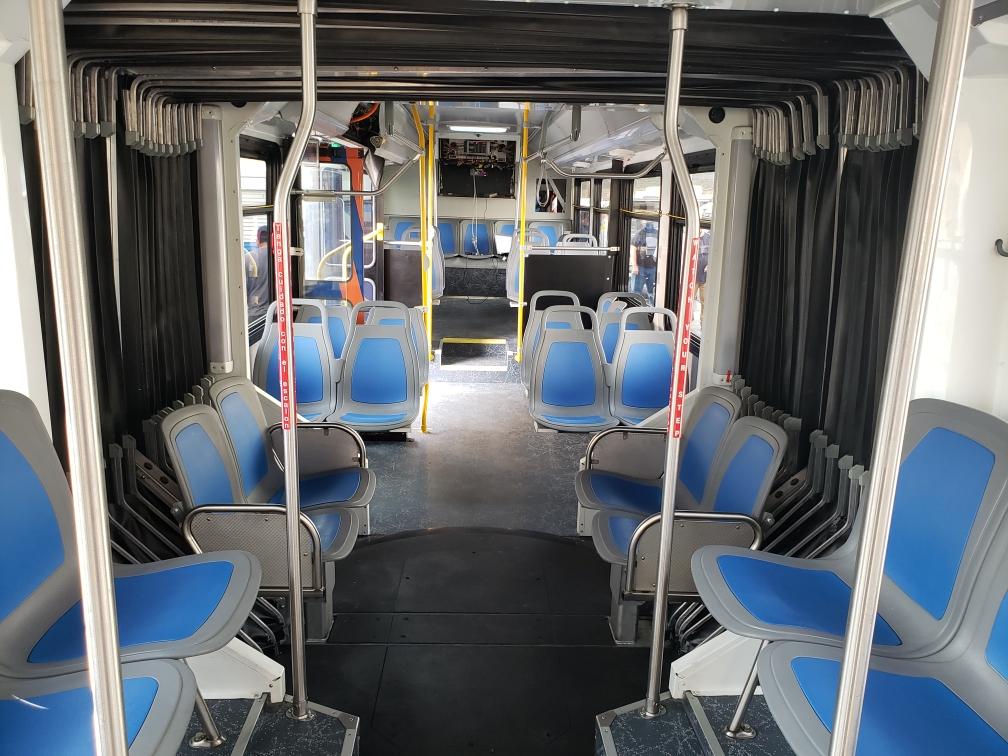 We're testing this concept on a bus we've dubbed "The Desert Rose." It's a 60-foot articulated, formerly diesel bus that we bought from Valley Metro in Phoenix, Arizona, hence the "desert" half of its name. The "rose" half is for Portland – the Rose City. 
As far as we know, we are the first transit agency in the world to test a converted articulated bus. We also sent three of our 40-foot buses (3500-series) to our contractor in California – Complete Coach Works – to be overhauled as well.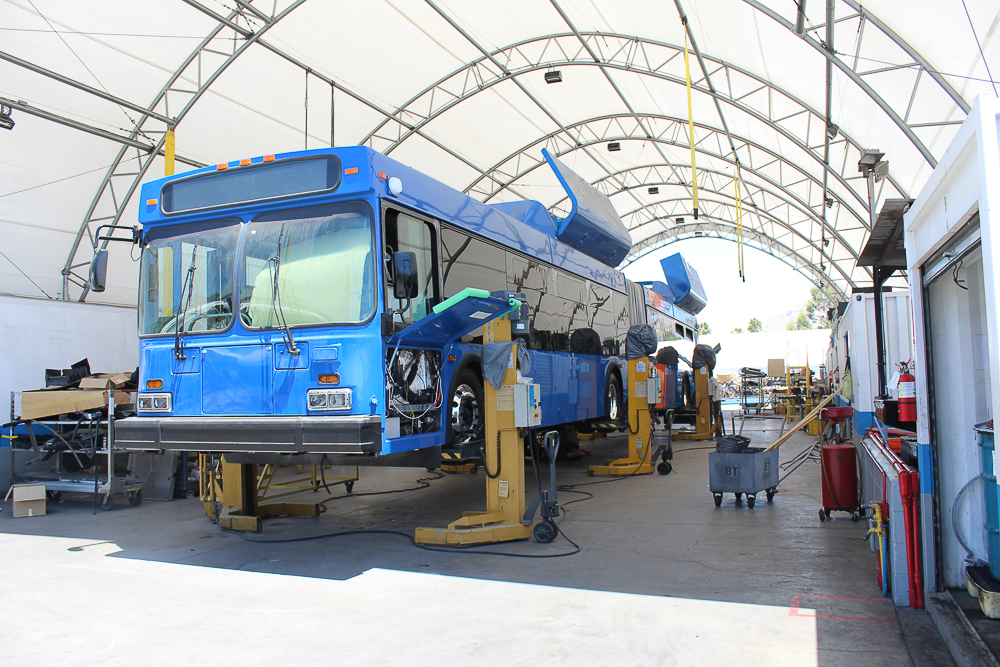 Testing is expected to start later this year.
New Flyer Battery Electric Pilot:
Back on the Road 
And last – but certainly not least – our electric bus "babies" are growing up.
Our first five electric were off the road for the majority of last year while we worked with New Flyer to troubleshoot software compatibility challenges and charging failures, and to make some necessary design modifications.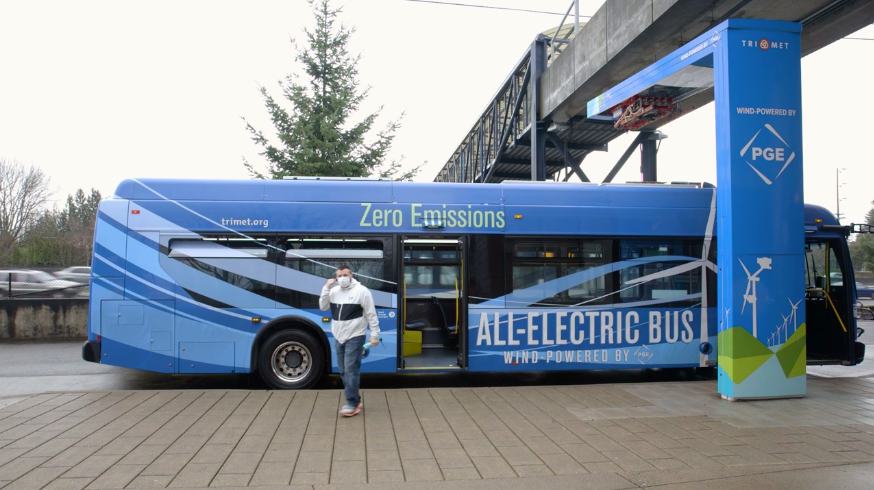 After receiving extensive repairs and upgrades, the buses are back running on Line 62-Murray Blvd in Washington County. While their performance has not always been what we had hoped, we know that we are asking a lot of them: Line-62 is a challenging route with a 700-foot elevation change, stop-and-go traffic, long service blocks exceeding 200 miles in a day and plenty of bus stops.
Check one out the next time you're at Sunset Transit Center, where Portland General Electric installed one of the most powerful overhead chargers in North America. These buses fully recharge in about 12 minutes while their operators take a break; then repeat charging after each round trip.   
And another cool feature – they're powered by 100% clean wind energy – a U.S. transit industry first!
Let's Power Up:
The Bottom Line
It's no secret that our finances have taken a hit during the COVID-19 pandemic. So you might be wondering how we're paying for all of this innovative new technology. We're fortunate to have gotten the wheels rolling before the pandemic started. Grants and funding were secured and production was already underway.
While the economic impact of the pandemic may challenge our approach to converting to a non-diesel fleet by or before 2040, we're already working to map out the road ahead. And, with all of these tests hitting our streets in 2021, we've never been more excited — or optimistic — about the journey.