Transit signal priority 101: Technology keeps buses out of traffic
The new FX2-Division line will bring a better bus service to the Division Street corridor with longer, 60-foot buses, bus-only travel lanes in select parts of the route and our best frequency yet. But one of the coolest features of FX isn't actually visible, though we know you're going to like it. It's called transit signal priority, which prioritizes bus travel at traffic signals, giving buses preference over cars at key intersections. This means less time waiting at red lights and less time stuck in congestion. Here's how it works:
Next generation technology 
TriMet's standard buses are equipped with infrared emitters, which communicate with receivers on top of traffic lights to "time" traffic signals and give buses the green light. The cellular technology we're using on FX buses is a cutting-edge, next-generation upgrade over the previous signal priority system. It collects information about the location and speed of a bus and sends it to a cloud server over a cell signal, which allows the system to adapt the phasing of traffic signals to let the bus pass through. 
The old system relied on line-of-sight detection, which means the bus had to clearly be in view of the receiver on the signal ahead, but the new system tracks buses in real time using artificial intelligence to time signals. By shortening a red light or extending a green light, buses move through intersections quickly and more reliably.
Faster trips, fewer delays
No one likes being stuck in traffic, and with the latest signal technology, fewer red lights mean fewer delays. When service begins on September 18, 2022, FX2-Division riders will notice more green lights and faster trips between Downtown Portland Gresham along Division. This is just one of the features that make riding FX2-Division a better option for trips along Division Street. In addition to using bigger buses with room for 60% more riders, FX buses arrive every 12 minutes, so you're never waiting around. 
Coverage between Portland and Gresham
We worked with the Portland Bureau of Transportation (PBOT), the city of Gresham, the Oregon Department of Transportation (ODOT) and LYT, a company specializing in next-generation signal priority technology, to install this new technology at 58 of Division Street's signalized intersections. These stretch along FX's 15-mile route between Downtown Portland and Gresham, so you're covered for a faster, more efficient ride. Less waiting and faster trips make FX2-Division the smart choice.
Speeding up your bus ride
You can watch this video to learn how the buses send signals to the regional partners' traffic network to make a request for a traffic signal to "grant" a bus a green light.
Time to celebrate (and ride for free!)
FX2-Division service officially begins on September 18! But we're throwing a big community-wide celebration the day before on Saturday, September 17 – and you're invited! If you're on Facebook, RSVP here.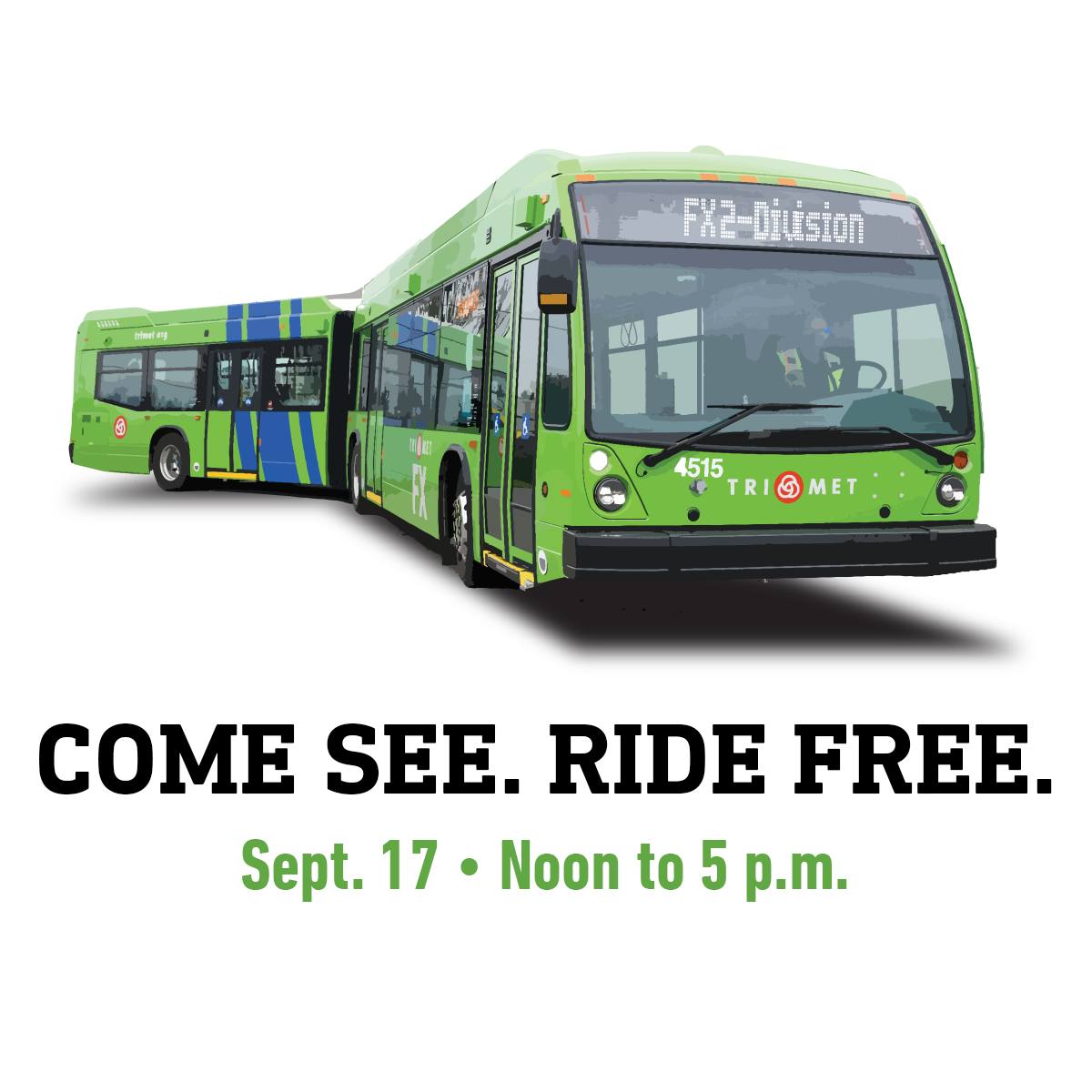 We'll have three festivals along the FX2-Division route near OMSI (featuring My People's Market), at PCC Festival Marketplace (PCC Southeast), and at the Gresham Farmers' Market. Each event will feature local food vendors, live entertainment and a giant paint-by-numbers mural. We'll also have free rides along the FX2-Division route between noon and 6 p.m.!