Steel Bridge Improvements Project
Be prepared: Expect major delays on all MAX lines August 2-29 as we replace tracks and make other improvements on the 108-year-old Steel Bridge.
It's time to replace the track and improve the signal system so we can:
Make MAX more reliable

:

The Steel Bridge is the keystone of our MAX system — every line crosses over it. By improving lift joints and locks, we can prevent many issues that slow or disrupt trains.

Give you a more pleasant ride

:

Replacement of worn rail, use of more durable materials and improving how rail is attached to the track bed will mean a smoother ride.
MAX
No MAX trains will run across the Steel Bridge from Sunday, August 2 through Saturday, August 29. Shuttle buses will take riders across the river and run every 2-5 minutes. There'll be limited room on board due to physical distancing requirements.
During the first 27 days of the disruption, shuttle buses will take riders across the river, serving Rose Quarter Transit Center, Union Station/NW 5th & Glisan and Old Town/Chinatown stations. 
On the final day, Saturday, August 29, the disruption on the east side expands, with shuttle buses serving stations between Lloyd Center/NE 11th Ave and Old Town/Chinatown and between Albina/Mississippi and Union Station.
.
You won't need to tap your Hop card to ride on the shuttle buses.
DID YOU KNOW?
As one of the most multimodal bridges in the world, the Steel Bridge carries pedestrian, auto and railroad traffic, along with buses and MAX trains.

Approximately 623 trains run across the Steel Bridge each day.

Union Pacific Railroad owns the bridge and leases much of it to the Oregon Department of Transportation. TriMet, in turn, subleases space for the MAX system from ODOT.

Crews will work 24 hours a day to get the project completed in 4 weeks.
BUS
Bus lines 4, 8, 35, 44 and 77 will be affected. They will be unable to cross the Steel Bridge and will detour to other nearby bridges, which will require some stop closures near the Steel Bridge. Line 17 will also have some temporary stop closures and Line 85 will be detoured through the Rose Quarter area.
BICYCLES AND PEDESTRIANS
The lower deck of the Steel Bridge will still be open to pedestrian and bike traffic.
We will provide shuttle buses across the river, but you may want to walk if you are able. It'll take most people less than 15 minutes to walk between Rose Quarter and Old Town/Chinatown MAX stations. Follow the signs to the pedestrian/bike route on the lower deck of the Steel Bridge. Please stay on the marked path as it's the fastest and safest route.
If biking, we recommend that you cycle your entire trip. If you're using our shuttles to cross the bridge, please park your bike at a station. Due to social distancing because of COVID-19, those bringing bikes during commuting times may have a longer wait to find room on board shuttle buses and MAX trains.
AUTO TRAFFIC
The upper deck will be closed to auto traffic. You can use the nearby Broadway or Burnside bridges to travel across the river.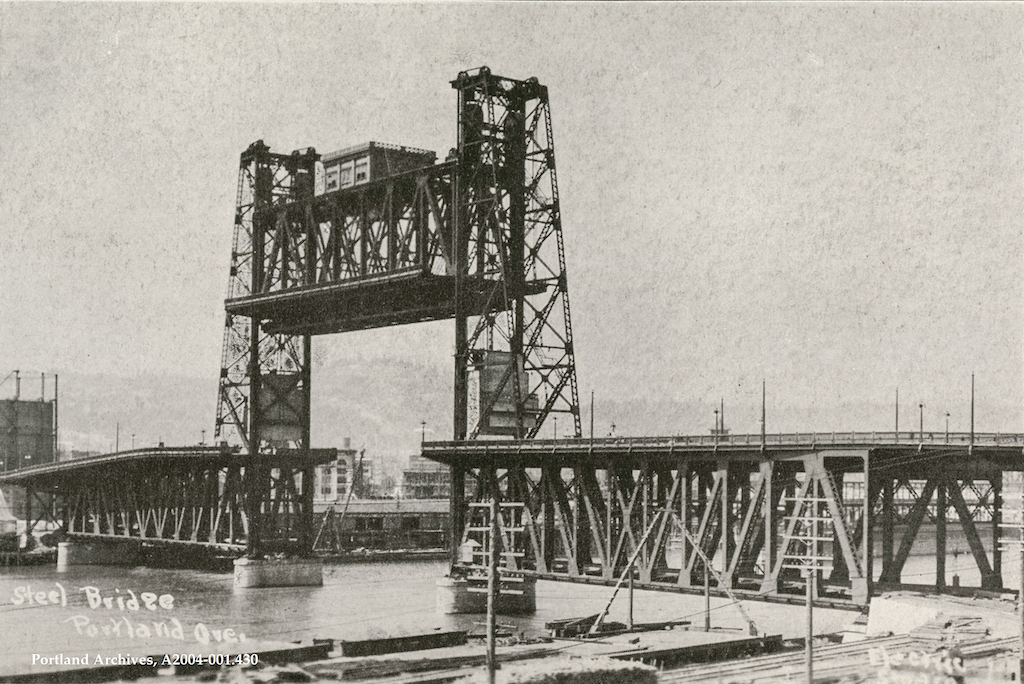 "Steel Bridge" 📷 Portland Archives