Returning to Transit? Here's What You Need to Know
Slowly, our communities are starting to reopen. For some, this means returning to the office or life outside of our homes. You're probably feeling excited but also a bit nervous – we know we are.
Many riders haven't set foot on a bus or train since early March. While you've been away, we've made some changes to how you ride.
We made these changes with guidance from the Oregon Health Authority. While we all still must be mindful on transit, as in all public places, these changes will help you get where you need to go – safely.
If you're ready to ride again, we're here for you. And if you're not, we'll be ready for you when you are.
Here's what you need to know when you return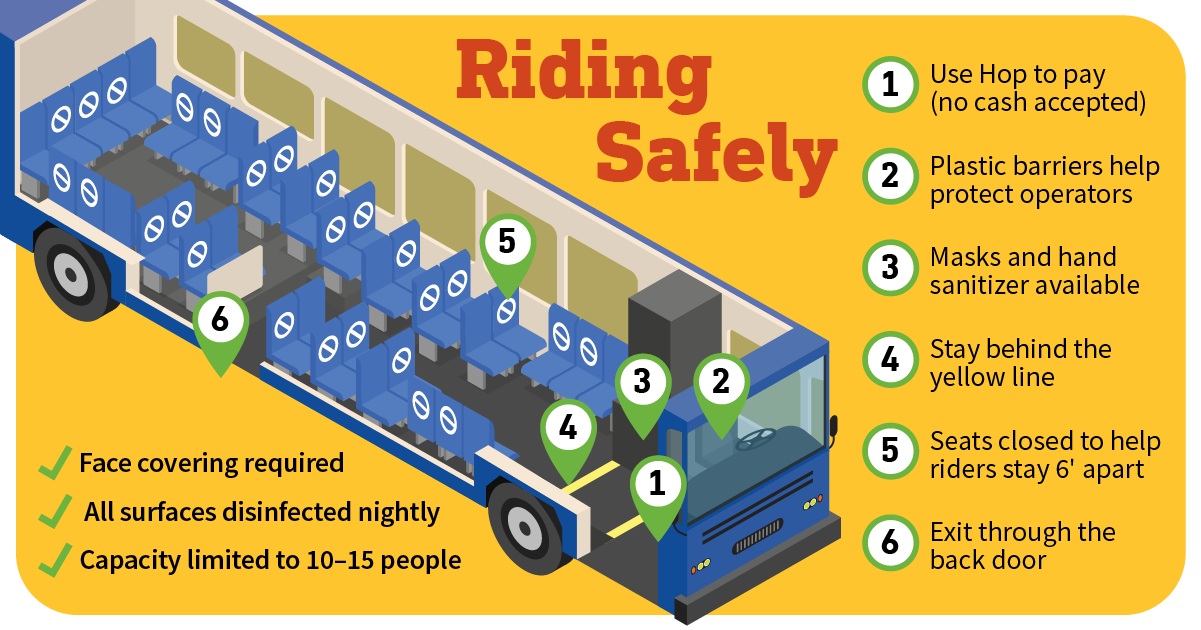 Face coverings are required
Everyone must wear a face covering on board buses and trains unless a medical condition prevents you from doing so. (Children under the age of 2 should not wear face coverings.) Disposable face coverings are available on board, although most riders will probably want to use their own if they have one.
We also strongly recommend riders use face coverings at rail stations, transit centers and busy bus stops. TriMet employees, vendors and contractors are also required to wear face coverings on our transit system when they can't stay more than 6 feet from other people.
The main purpose of face coverings is to protect other people in case you're sick but don't realize it, so please be sure to wear them for everyone else on board.
Reduced service
Most buses and trains are running less frequently than they did before. This change is temporary and it helps us respond to the lower ridership of the past few months. Give yourself extra time and visit trimet.org to plan your trip, as schedules have changed.
Social distancing
Please stay at least 6 feet apart from other riders and TriMet staff – including the operator – on buses, MAX and at stations and stops. WES riders can stay 3 feet from each other, since all riders are wearing masks and WES's schedule allows for frequent cleaning
Because all riders will be wearing face coverings and we'll be cleaning our buses and trains even more frequently than we are now, riders will soon be able to safely stay 3 feet apart on buses and MAX too. We still have work to do before this change, so it's not in effect yet. Stick with 6 feet of distancing until you hear from us.
We've closed off some seats on buses and trains with signs – please don't sit in them. These closed seats are arranged to help you stay a safe distance from other riders.
We moved back the yellow line at the front of buses, so that it is 6 feet behind the driver's seat. We're also asking riders to exit through the rear doors, if they are able. Our operators are around people all day long, and we want to put as much space between them and riders as possible.
Passenger limits
To encourage social distancing, we're limiting the number of people who can be on board buses and trains at one time.
Buses are limited to 10-15 people – 10 individuals, or 15 people riding together (like couples or parents with children).
If a bus is at capacity, the overhead sign on the front of the bus will say "Sorry! Bus at capacity" or the operator will say the bus is full. Please be prepared to wait for the next bus if the first one that comes doesn't have space.
If a MAX train is too crowded to spread out by at least 6 feet, please wait for the next one.
No cash fare on buses
To reduce the amount of time operators and riders are near each other, we're currently not accepting cash fare on board buses. You'll need to pay fare with a plastic or virtual Hop card, or with a 2½-hour or all-day Hop ticket — both of which are great contactless payment options. You can also pay with Apple Pay, Samsung Pay, Google Pay or a contactless credit/debit card.
Hop tickets can be purchased with cash or credit/debit card from a ticket machines at transit centers and MAX stations. Cash can also be used to load fare to Hop cards at more than 500 locations throughout the region.
Because of COVID-19, Hop cards are currently available free of charge at the TriMet Ticket Office in Downtown Portland or calling or 503-238-7433 (RIDE).
Hand sanitizer
We're installing hand sanitizer dispensers on all of our buses and trains. Please make sure your hands are clean by frequently washing them with soap and water, when you can, for at least 20 seconds, or by using hand sanitizer when soap and water isn't available.
Our commitments to you
Safety is a value that cannot be compromised. Here's how our practices have changed in response to COVID-19.
More cleaning staff
We hired 30 additional service workers to help elevate our cleaning. We are also bringing on more than 100 new full-time cleaners in the weeks and months to come, to support continued cleaning efforts. Know somebody who might be interested?
Let's protect one another
We need your help to maintain a clean and safe system. Please follow the following safety advice recommended by the Oregon Health Authority:
Stay home if you're sick
Keep 6 feet apart whenever possible
Wear a face covering
Cover your cough or sneeze with your elbow or shoulder
Frequently wash your hands with soap and water for at least 20 seconds
Avoid touching your face with unclean hands
Minimize unnecessary travel