ZooLights, Oregon Zoo's
annual winter festival
, attracts crowds in the thousands every night. and there's simply no way Washington Park's parking lots can fit that many cars. And if you're planning to visit on a weekend, you're not likely to find a spot without circling for half an hour. Or more.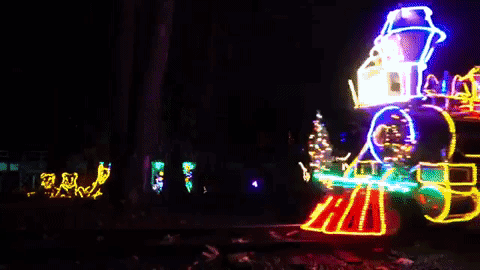 Take MAX, if you can
Fortunately, the Washington Park MAX Station is located right across from the zoo's entrance, with Blue and Red Line trains arriving frequently throughout the evening.
Park and ride
If you don't live near a MAX line, don't worry. The Sunset Transit Center Park & Ride has more than 600 parking spaces, and it's just one MAX stop west of the zoo. Plus it's free.
If you're going by bike, you can skip the steep climb by locking up downtown and hopping on MAX.
Take transit and save
When you take transit to ZooLights, you'll save up to $5 on each admission — just show your valid fare at the gate. If you're already an Oregon Zoo member, show your fare at the gate and you can bring in one friend or family member free of charge.
Ridesharing
Taking Lyft or Uber is a lot pricier than taking the train, but you won't have to worry about parking. There's a designated ridesharing area just down the hill from the zoo's main entrance.
Get dropped off
There's a drop-off zone in front of the Zoo Education Center. When the main lot is full, dropping off is your only option.
Drive
Leave early, if you can. The main parking lot tends to fill by 4:30 p.m. on days when school is out, and the Sylvan overflow by 6 p.m. There's a shuttle that runs from the overflow lot to the zoo entrance. Parking in the main lot is $8 during ZooLights.
Don't miss out on tips for getting to popular events around town! Sign up for Riders Club ➫